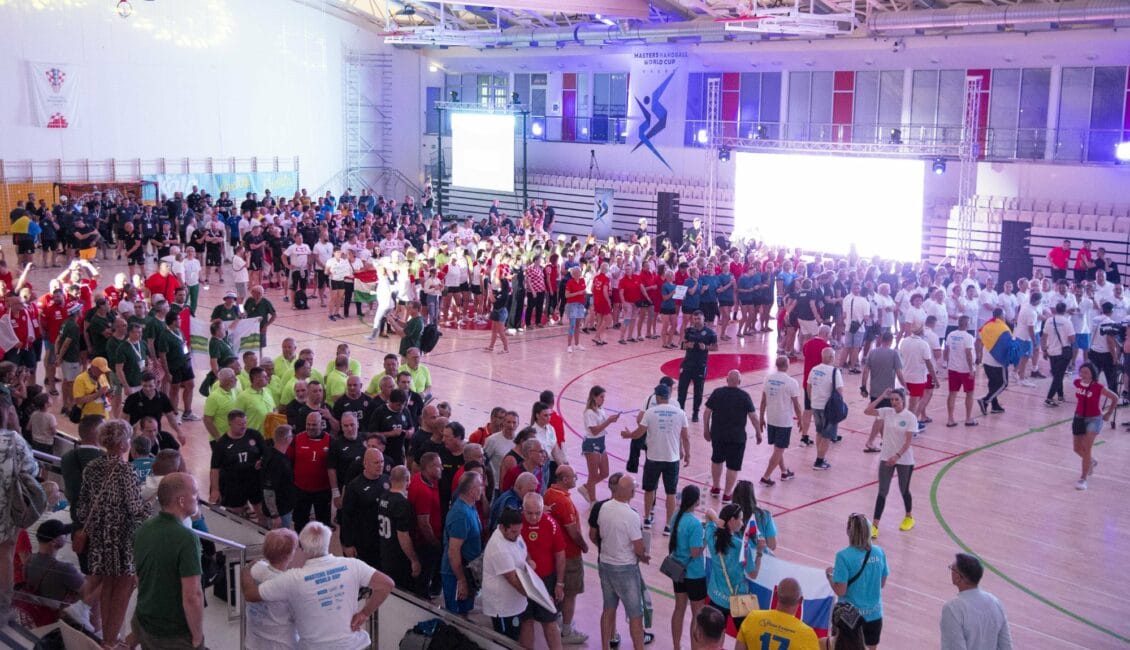 The fifth Masters Handball World Cup was held in lovely city of Omis in Croatia on beautiful Adriatic Coast between May 19-22. Almost 1.000 participants from 40 teams from 11 countries (unfortunately, teams from Ukraine had to cancel their participation this year, as well as some non-European teams due corona status) enjoyed fantastic sunny days in combination of sea, handball and fun with the friends from all over the world.
The titles from the event which is organizing since 2017, goes to Romania, Slovakia, Poland and Lithuania.

MHWC 2022 has been played in five categories. Men's 35/40+, 45+, 50+ and Women's 30+ and 40+.

FINAL M 50+ PEAC (Hungary) – MHT PABIANICE (Poland) 7:8
FINAL W 40+ ELITE NITRA (Slovakia) – Evergreens (Slovakia) 11:8
FINAL M 45+ HKKH Hana (Czech Republic) – Masters Slovakia 14:15
FINAL W 30+ Kauno Ažuolas (Lithuania) – KSC (Hungary) 9:8 (pen.)
FINAL M 35+ HC Bucovina (Romania) – Masters Slovakia 11:10
STANDINGS
M 35+
1. HC Bucovina
2. MH Slovakia
3. Dzik Warszawa
M 45+
1. MH Slovakia
2. HKKH Hana
3. SHTH Hlohovec
M 50+
1. MHT Pabianice
2. PEAC Old Boys
3. HC Brno
W 30+
1. Kauno Ažuolas
2. KSC Hun
3. Collected Team Poland
W 40+
1. Elite Nitra
2. Evergreens Slovakia
3. ZKA Bratislava
INDIVIDUAL AWARDS
M 35+
MVP: Mihai Rohozneanu (HC Bucovina)
Top scorer: Tomaš Laho (MH Slovakia)
Goalkeeper: Michal Belicki (Dzik Warszawa)
M 45+
MVP: Milan Varhalik (HKKH Hana)
Top scorer: Peter Luzhak (MH Slovakia)
Goalkeeper: Branislav Augustin (MH Slovakia)
M 50+
MVP: Ryshard Klimčak (MHT Pabianice)
Top scorer: Devid Munea (Alpha Ro)
Goalkeeper: Wojciech Hincza (MHT Pabianice)
W 30+
MVP: Vaida Šokeliene (Kauno Ažuolas)
Top scorer: Gabriella Halacz (KSC Hungaria)
Goalkeeper: Ildiko Molnar (Minions)
W 40+
MVP: Katarina Papanekova (Elite Nitra)
Top scorer: Katarina Hanakovičova (Elite Nitra)
Goalkeeper: Lenka Bundova (Evergreens)

*The first Masters Handball World Cup was held in April 2017
*Since 2017 teams from all over the Europe, but also Brazil, Honduras and UAE participated at the event.
*Matches are playing at two courts under one roof at ŠC "Ribnjak" in Omis
*Trophies "hand with the ball" are handmade by famous sculptor from city of Split